What do you think of when you hear summer? Sunny, warm days? Vacation? The Beach? Relaxation? What about AC Maintenance? The summer months are HERE and with temperatures rising, a properly functioning AC Unit makes it possible to enjoy your summer indoors when the temps outside get too hot to handle. Let's take a look at a few AC maintenance tips to make sure your unit is summer-ready.
Keep it Clean
When is the last time you checked your AC filter? No time, like the present. Keeping a clean filter helps your unit cool more effectively and efficiently which is especially important during summer months when your unit needs to work harder to meet your desired temp. Monthly cleaning, and replacing the filter every 3 months will ensure your unit can do it's very best, when you need it most.
Flip up the shades
A lovely summer day may be nice to look at, but the sun that passes through windows during peak heat hours can raise your whole room's temperature fast! Close curtains or blinds on windows during peak sun hours, especially for windows with a western or southern exposure.
Round & Round it goes
Be wise when using the fan setting on your AC unit. When it's humid, keep your unit's fan running, even if the air conditioner is off. It will circulate the air and keep you more comfortable. Ceiling fans are also a big help, allowing you to raise your thermostat a few degrees without a reduction in comfort, but remember, fans cool people, not rooms! Don't waste energy running them if you're not in the room.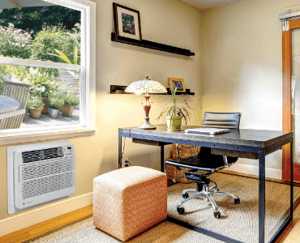 Take Control
Install a programmable thermostat or an AC that offers WiFi-control. Setting higher temperatures for the hours when you're not home can dramatically cut your costs. Set properly, a programmable thermostat can save you about $180 per year. WiFi options allow you to conveniently control your unit anytime, anywhere, so as your schedule changes, you can continue to control temperature settings at the click of a button. Learn more about Friedrich's Family of Smart Wi-Fi Products. Click Here